A Land Pro Synthetic Putting Green Is At Home Anywhere
Custom synthetic putting greens are not only great for residential backyards, but are also perfect for just about any place you can imagine where golf practice and entertainment needs are only steps away. And the virtually no to low maintenance feature makes them even more attractive and practical for a variety of reasons in settings with high visibility and continual use.
Our Naturally Beautiful Custom Synthetic Turf Putting Greens Are Also Ideal For:
Schools/Colleges
Office Complexes
Golf Courses
Pro Shops
Driving Ranges
Retail Golf Stores
Hotels and Motels
Restaurants/Bars
Condominiums
Adult Communities
Apartment Buildings
Shopping Centers/Malls
You-Name-It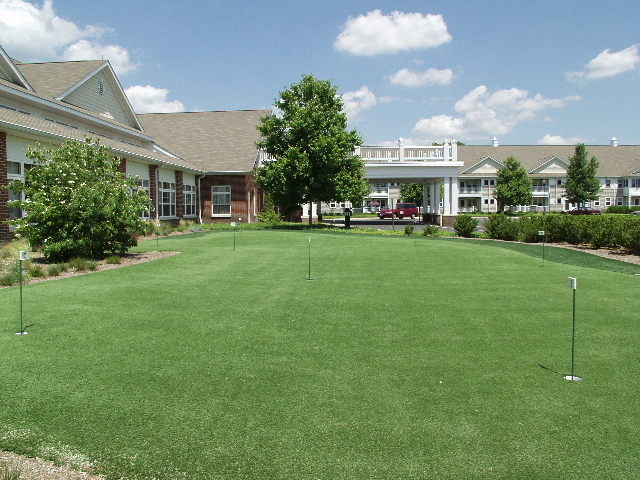 "I cannot speak highly enough of Ray Gobeille and his team of installers. One of the best additions to our back yard, great fun, picturesque and no maintenance!"
"Land Pro installed a Synthetic Putting Green for us eight years ago. We use it nearly every day and yet it remains in its original excellent condition. We highly recommend it to everyone!"
Some of Our Work
Having a synthetic putting green right in your backyard provides an ideal opportunity to teach your kids the game. It's also a great way to entertain guests. Be the envy of your neighborhood. Lighting can even be installed, so you can play after dark.
View some of Land Pro Service's custom synthetic turf putting greens.