Natural or Synthetic?
What Every Golfer Needs to Know
About Synthetic Putting Greens
You want to improve your game, but it's hard to find a green to practice your short game shots. A real grass green in your backyard involves ridiculously high costs and daily maintenance. But now you can get a synthetic green that reacts and responds exactly like a real bent grass green, without the high cost and daily hassles. It needs no watering, mowing or seeding.
The expense, upkeep and maintenance make owning a real-grass green completely impractical. You not only have to mow with an expensive, specialized "tiff" style mower 3 to 4 times a week to cut the blades of grass short enough, but you also have to apply fertilizer, seeds and pesticides on the green and cut holes on a weekly basis. Just ask any greens keeper about the amount of time and effort that is required to maintain a real-grass green. 91.4% of all real-grass greens installed in backyards are either removed or lost to disease within two years.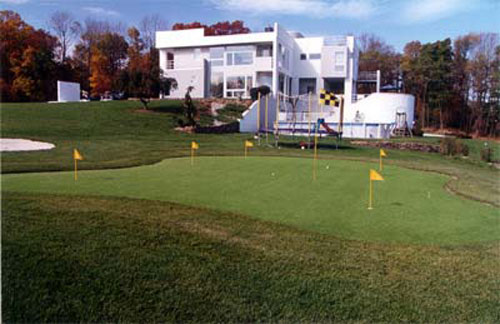 Some of Our Work
Having a synthetic putting green right in your backyard provides an ideal opportunity to teach your kids the game. It's also a great way to entertain guests. Be the envy of your neighborhood. Lighting can even be installed, so you can play after dark.
View some of Land Pro Service's custom synthetic turf putting greens.