Polypropylene vs. Other Materials
The Most Important Golf Innovation Since Metal Woods – Polypropylene
You need a green that acts just like real grass not only on putts, but also on chip shots and pitches. The two most common materials used in synthetic greens  are nylon and polypropylene. After 16 years of experience, research and installing hundreds of greens, we know that the most realistic material is polypropylene. A polypropylene sand-filled product most accurately duplicates a real grass putting green.
Many synthetic greens are being installed with nylon, which may be an effective surface in places like Florida or Arizona, but it doesn't perform as well in rugged Northeast conditions.
The fibers in nylon will bend down after awhile. When this happens, the ball will roll much faster, and there is nothing you can do fix it. The longer you have your nylon green, the faster the ball will roll. Nylon is also a stiffer fiber, which can cause the ball to bounce, and not hold the green. Being a more porous fiber, nylon will absorb and retain water, leading to odors and mold, mildew and fungus growth. It is usually installed on concrete, which doesn't allow for drainage, and must be sloped so the water can drain off the green. Your balls will also tend to roll the way the drainage is set up, which is not a realistic putting surface at all. Nylon fibers tend to be darker, giving the surface an unnatural blue-green appearance. Nylon can also wrinkle up causing bumps and creases on the putting surface. It can also have "streak lines" that run the length of the turf and can seriously hamper true ball roll. In our experience, nylon greens do not create a realistic surface that allows for a true roll of the ball.
Land Pro greens are only made with UV-treated polypropylene. And because the spaces between the fibers are filled with silica sand, the fibers will never bend down. The ball actually rolls on one-eighth inch of fibers bent over to simulate a bent grass green. You get a consistent, true roll of the golf ball, and the speed really won't change, unless you want it to. (You can easily change the speed by using a broom or roller.) Since our greens are installed on a crushed stone base, they have more undulations where all different kinds of breaks and contours can be created in the green. Our greens will also receive and hold an approach shot and respond just like a real bent-grass green. The green accepts full distance shots – and if you've got the game, you can even spin the ball back.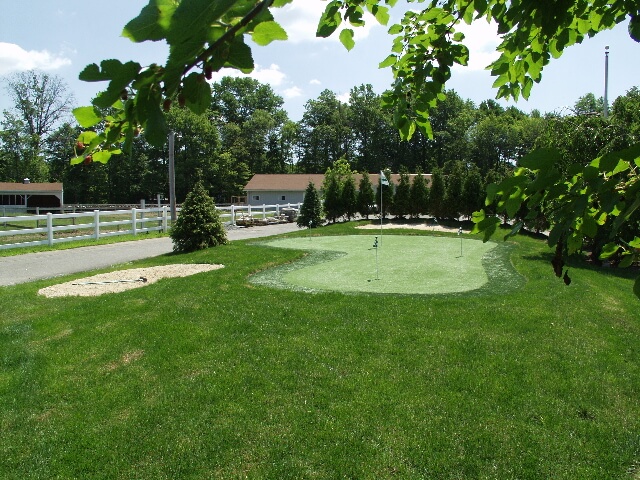 Silica sand is the best in-fill material available today.
Some synthetic green installation companies are using coal slag as an in-fill material. Just to put it to the test, Land Pro's turf manufacturer installed a green using coal slag and found that it hardened up and did not act or respond like a real grass putting green. In fact, the entire green had to be replaced because it was so hard. It has been our experience that with silica sand-filled polypropylene, the green will remain true and playable, and will not become hard or even require additional sand. Silica sand is the best in-fill material available today. For those who want a realistic artificial green that looks and acts like real grass, polypropylene is the obvious choice. So, make sure that your green is installed using silica sand-filled polypropylene.
Land Pro Greens Are Only Made With UV-Treated Polypropylene
Fibers Will Never Bend Down
True Roll of the Golf Ball
Consistent Speed of the Golf Ball
Some of Our Work
Having a synthetic putting green right in your backyard provides an ideal opportunity to teach your kids the game. It's also a great way to entertain guests. Be the envy of your neighborhood. Lighting can even be installed, so you can play after dark.
View some of Land Pro Service's custom synthetic turf putting greens.