A Well-Designed Green Will Allow You To Practice Every Kind Of Putt And Shot Imaginable
Anyone can design a flat green with a minimal amount of breaks. It takes an expert to design a green that can simulate every different kind of putt you could encounter on the golf course – short putts; long putts; straight putts; left to right; right to left; uphill; downhill; double breaks; 2-tiers – you name it. A well-designed green will let you practice any kind of putt you want. Without a good design, most of your putts will be flat or straight.
You'll also want to practice all kinds of approach shots – chips, pitches, bunker shots, and even full swings. The design of the green must accommodate these shots, as well. The sand traps, chipping and pitching areas must also be strategically placed in areas that give you a wide variety of shots. A pond can even be installed so you can hit approach shots over water. Lighting is also available so you can practice after the sun goes down.
All of these things must be considered, and more importantly, how they will work in your backyard. Every yard is different, and everyone has different tastes. Space is also a concern, since it limits how much can be done. Safety is another factor. You want to be careful about the location of your sand trap. What happens if you skull one? Do you break a window, damage your neighbor's property or even hit someone?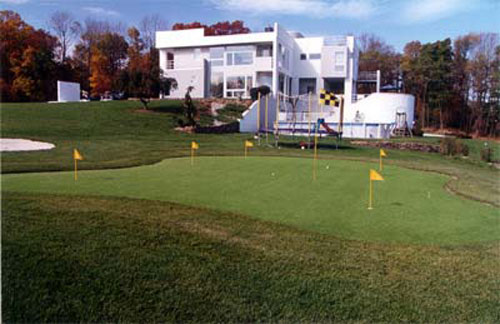 We Understand the Ground, Grass, Soil and Drainage Conditions of This Region
At Land Pro, we take all of this into account. In our many years of experience designing and installing greens in the Northeast, we've learned how to efficiently provide a wide variety of shots to practice, without interfering with other parts of your property or compromising the safety of your home. The experts at Land Pro thoroughly understand the ground, grass, soil and drainage conditions of this region – which are much different than other parts of the country.
"We feel that having the Putting Green in our yard has brought lots of relaxation, and enjoyment, and has made our short game of playing golf better! Along with the beauty of the landscaping it's like having a sanctuary in your own yard! Everyone should have it. Fun with entertaining! Added pleasure…. good company, good food, good golf!"
"It was a pleasure dealing with you on this project. The synthetic putting green product and your company have performed above par."
Practice All Kinds of Approach Shots
Some of Our Work
Having a synthetic putting green right in your backyard provides an ideal opportunity to teach your kids the game. It's also a great way to entertain guests. Be the envy of your neighborhood. Lighting can even be installed, so you can play after dark.
View some of Land Pro Service's custom synthetic turf putting greens.