Golfers Who Want Their Putting Greens To Last Only A Year Or Two Should Install Cheap, Low-End Greens The Other 99% May Want To Consider A Durable Polypropylene Green
Your synthetic green must be built to withstand our harsh winters, survive annual freeze and thaw cycles and provide excellent water drainage for the rain we get here. And even though UV-treated polypropylene is highly durable and designed to withstand harsh conditions, it takes more than just a durable turf to outlast these weather conditions.
When the ground freezes and thaws, it not only undergoes temperature changes, but moves as well. If you use a solid base like cement or asphalt, it will easily crack. These cracks will damage the integrity of the surface of your green. Do you want to putt over cracks and potholes?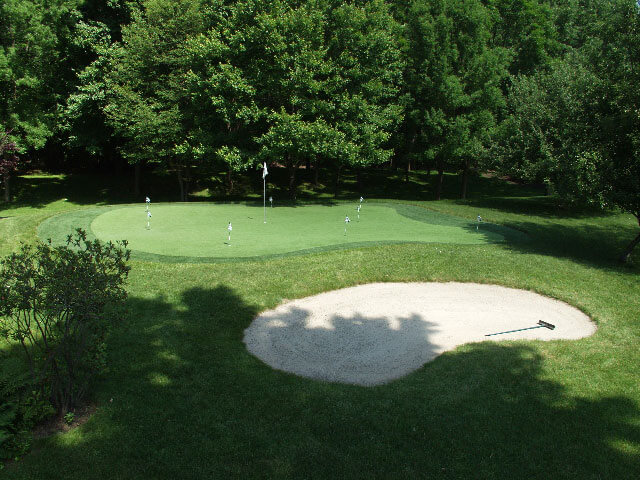 Land Pro Guarantees Every Green We Install for Five (5) Full Years
To withstand these subtle movements, Land Pro uses an 8-inch base of crushed stone and stone dust. This kind of base is not only as smooth as cement, but it can "give" with the movement of the ground to withstand the freeze and thaw without cracking or compromising the integrity of the green.
And let's not forget the water drainage. Our crushed stone and stone dust base is smooth, but porous. Water can easily drain right through the base, so the green doesn't have to be designed to handle water roll-off. We simply design the green so you can practice real-life golf situations.
Land Pro also uses 9 pounds of silica sand for every square foot of green surface. This makes the fibers of the green more durable, so it won't move. On a 1,000 square foot green, there are 9,000 pounds of sand broomed into the fibers of the turf to hold it firmly in place.
And here's another important point to consider regarding durability. Many other synthetic green installers use plastic cups, which don't last very long because they crack easily in the cold. Since metal can withstand weather conditions much better than plastic, we only use aluminum cups.
Moreover, Land Pro guarantees every green we install for five (5) full years.
They are all made to last, with built-in durability.
Some of Our Work
Having a synthetic putting green right in your backyard provides an ideal opportunity to teach your kids the game. It's also a great way to entertain guests. Be the envy of your neighborhood. Lighting can even be installed, so you can play after dark.
View some of Land Pro Service's custom synthetic turf putting greens.